GEA ORGANIC Hemp seed oil
cold pressed hemp seed oil, organic

Ingredients
100 % cold pressed hemp seed oil,  organically produced
Characteristics
obtained by cold pressing only by mechanical means the best-quality organically produced hemp seeds (Cannabis sativa)
has full flavour and gentle nutty taste
high content of essential fatty acids, with great balance of Omega 6 – Gamma-linolenic acid (GLA) and Omega 3 fatty acids – Alpha-linolenic acid (ALA)
| Average nutrition value | per 100 ml |
| --- | --- |
| Energy | 3404 kJ/ 828 kcal |
| Fat | 92 g |
| of witch: | |
| - saturates | 8 g |
| - mono-unsaturates | 13 g |
| - polyunsaturates | 71 g |
| Carbohydrate | 0 g |
| - of witch sugars | 0 g |
| Protein | 0 g |
| Salt | 0 g |
| | |
| Omega 3 fatty acids (alfa-linolenic acid) | 17 g |
| Omega 6 fatty acids | 54 g |
| of which | |
| - linoleic acid | 50 g |
| - gamma linolenic acid | 4 g |
Usage and storage
Recommended as a supplement for preparation of cold dishes (salad dressings, pasta sauces, spreads, sauces), cooked dishes, bread dough, cakes and other sweets, such as ice cream dressings.
Store in a cool and dark place in original packaging. Keep refrigerated after opening. Oil may appear cloudy or have visible sediment. This does not compromise quality.
Labels, awards, recognition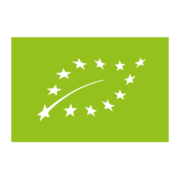 SI EKO – 003
Non - EU Agriculture
We have acquired the certificate of organic production / processing of agriculture and food products in 2015.
Organic Certification is an internationally recognized set of standards aimed at proving that agricultural and food products have been produced with emphasis on the protection of soil and water, the enhancement of biodiversity and the responsible use of energy and natural resources.