GEA Pumpkin seed oil
cold pressed

Ingredients
100 % cold pressed pumpkin seed oil
Characteristics
produced from carefully selected sun-ripened pumpkin seeds from Styra and Prekmurje region in Slovenia under strict quality control
taste of pumpkin seeds and a dark green colour
high biological value thanks to cold pressing procedure
natural source of vitamin E
| Average nutrition value | per 100 g | per 15 g | DV % 1) |
| --- | --- | --- | --- |
| Energy | 3700 kJ/ 900 kcal | 555 kJ/ 135 kcal | 7 % |
| Fat | 100 g | 15 g | 21 % |
| of witch: | | | |
| - saturates | 18 g | 2,7 g | 14 % |
| - mono-unsaturates | 32 g | 4,8 g | |
| - polyunsaturates | 50 g | 7,5 g | |
| Carbohydrate | 0 g | 0 g | 0 % |
| of witch sugars | 0 g | 0 g | 0 % |
| Protein | 0 g | 0 g | 0 % |
| Salt | 0 g | 0 g | 0 % |
| Vitamin E | 50 mg – 417 % RDA 2) | 7,5 mg – 63 % RDA 2) | |
1)The % Daily Value are based on a 2.000 calorie diet
2)Recommended Daily Allowances

Usage and storage
Suitable for preparation of cold dishes and all kinds of salads, sauces, spreads and dressings.
Store in a cool and dark place in original packaging. Cold pressed oil may appear cloudy or have visible sediment. This does not compromise quality.
Origin
Labels, awards, recognition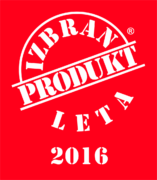 Voted product of year 2016
The award for an innovative consumer product by choice of satisfied customers.